Resources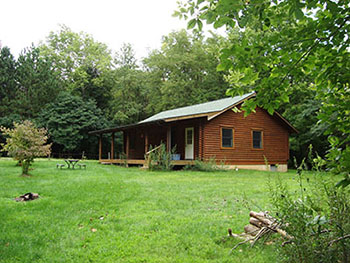 Alton A. Lindsey Field Lab
The Alton A. Lindsey Field Laboratory was established in 1999 with support from the Howard Hughes Foundation along with the Lindsey family and other friends of the Reserve. This log structure houses an excellent teaching facility with an AV system and analytical tools including scopes, computers, and collections.

Grid System
Alton A. Lindsey and colleagues established a surveyed grid of markers defining 40m x 40m quadrants for mapping vegetation and other natural features. This grid system allows for the documenting of forest dynamics based on large-scale censuses of marked and mapped tree populations.
Trail System
A well-marked system of trails complements the surveyed 40m- grid system. Both are permanently marked with color-coded PVC stakes, highlighted on a color topographic map (PDF: 1.61MB).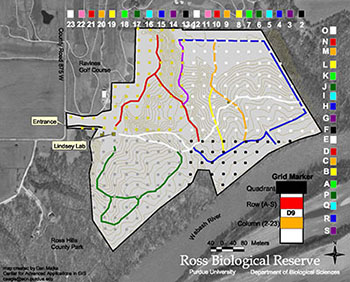 Mini-ponds
A series of 24 cattle tanks (8' in diameter) has been used for doctoral and faculty research on aquatic insect community organization, anuran behavioral ecology, and parasite transmission. The mini-ponds have also been used for classes for mark-recapture experiments, and have been instructive for visiting high-school students and teachers.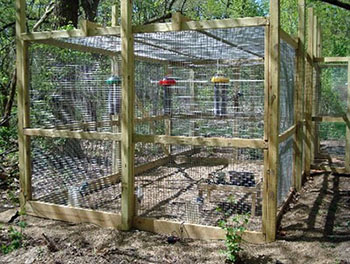 Aviaries
Another experimental resource are three outdoor aviaries constructed by the ecology faculty. Two of the aviaries measure 12' x 12' x 8' and are divided into eight cells, while the third is 20' x 10' x 8' and divided into two cells. These aviaries have been used to investigate controlled competitive interactions, predator response behaviors, and hormonal regulation of affiliative behavior in birds.
Digital Mobile Recording Station