Outreach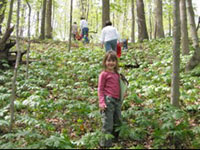 In keeping with Al Lindsey's vision of community involvement, we encourage the use of the Ross for all forms of educational outreach. Programs in ecological principles and natural history at the Ross Reserve play a key role in the efforts of the Department of Biological Sciences and College of Science to stimulate interest in science and related careers among K-12 students in the state of Indiana.
Scientific literacy is an important societal mission of the University, and environmental understanding is particularly critical for sustaining a quality of life. Contact with Nature and experience with ecological science promote informed citizenship. Our program in Conservation of Wetlands and Amphibians (PDF: 5MB) exemplifies the kind of expansion of public outreach we are creating, combining basic natural history and field exploration with art, quantification, and participatory "citizen science." Working with third- and fourth-graders and their teachers, we conduct a three-day program in the Spring with amphibian expert Ximena Bernal and Purdue Biology students. An in-school visit with live animals presented basic concepts of ecosystem function and threats, along with the life cycles and vocalizations of local frog species.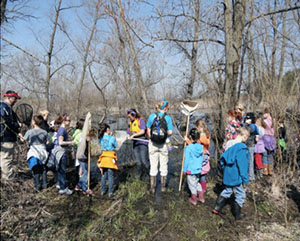 In a day-long field trip, we visited three wetlands including the Reserve, identified many plants and animals, and practiced protocol for the North American Amphibian Monitoring Program, including their data sheets. Students with their native curiosity intact respond enthusiastically to the opportunity for discovery, and they were quick to assimilate both natural history (calls of frogs) and data collection (sampling procedure). On the third day, the students created landscapes to express their ideas about amphibians and their wetlands, and in this, too, they valued the freedom to explore and showed their grasp of the ideas.
Ecology and Art Program
This program was developed combining ecology and art in collaboration with ecologists in the Department. It is based on the premise that art can boost the emotional connection with natural history and ecological principles, and it gives students a chance to express what they've learned. We have tested this premise and shown it to be true. Having personal experience in natural landscapes develops a sense of recognition and understanding that can't be developed in a classroom. It fosters the ability to really see the forest, for example, as a living system comprised of familiar players whose lives have similar requirements to our own. It results in feeling at home in nature, and understanding our interconnectedness and the value of environmental conscience.
"The question is not what you look at – but how you look and whether you see."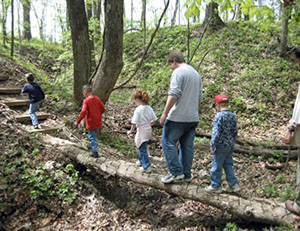 Art also promotes close observation to the details of form and movement, and is critical to the scientific process as in botanical illustration. Drawings are often better guides to identification and taxonomy than photographs. The brochure of the program is available (PDF: 3.07MB) and is being circulated to local schools. We are also enlisting collaboration from other Departments including Entomology, and Earth, Atmospheric and Planetary Sciences to expand into more topics, such as pollination and biogeochemistry. We are also working with Tippecanoe County Parks to coordinate programs so that ours will fill a needed niche for local schools, and to partner with local talent like members of the land trust NICHES. The Ross Reserve plays an important role in providing access to nature and ecological principles in the Wabash corridor.
For more information on the Department of Biological Sciences role in the K-12 Outreach program, and the role of the Ross Reserve in, for instance, the Summer Biology Experience, visit their homepage or contact the Biology Outreach Coordinator Isidore Julien.
For more information on Purdue's School of Science K-12 Outreach program visit the homepage.
Workshops
The Ross Reserve and Lindsey Field Lab are also used for workshops including training workshops for Biology and AP Environmental Science Teachers, and workshops covering local natural history by the Tippecanoe County Parks, Audubon Society, and the NICHES Land Trust. These are sometimes run by ecologists from Biological Sciences and sometimes by the groups themselves. Recently the Thomas Say Society organized an overnight insect sampling workshop that added to our knowledge of the Reserve's insect communities. The Reserve has also been the site for BioBlitz citizen science surveys, Christmas Bird Counts, Breeding Bird Surveys, and outdoor experiences for future teachers.
Courses
The Ross Reserve is used for the Summer Biology Experience, a summer course for high-school students in quantitative biology. Students learn basic ecological principles and develop quantitative skills using data they acquire at the Ross. Several ecological projects, originally funded by a Howard Hughes Institute grant, now partially funded by the Department of Biological Sciences, are also conducted at the Ross each summer. Biology faculty offer mentorship of these courses. Ecology courses in Biological Sciences and other departments regularly use the Reserve, including Fundamentals of Ecology, Field Ecology, Conservation Biology, and Evolution of Behavior. Thousands of students over the years have used the Reserve for class projects or independent study and Honors research.
Conferences
The Lindsey Lab has hosted short conferences including the Standards Committee of the Indiana Association for Biology Teachers. The lab has also been used to host public receptions for invited seminar speakers.