Forest Succession
When established, the Ross Reserve was a patchwork of mature and partially logged forest with substantial open pasture that is now forest again. Dr. Alton Lindsey foresaw that this 'living laboratory' would pay dividends in understanding forest dynamics and the resilience of diverse ecosystems. From Dr. Lindsey's 1949 proposal: "…the resultant data would increase in scientific value year by year, and the opportunity to compare current status of the permanent sample plots with definitely known past developmental stages will prove a great stimulus to students".
Forests of the Ross Biological Reserve have proven to be both diverse across the landscape of soil types and variable in time. Change has occurred on several time scales. Over the last century, fire has no longer been used to manage the forests, and species composition of mature forest has changed in favor of moisture-loving trees like sugar maple. In sixty years of protection, ecological succession has replaced forests that were once cut, although not yet to their original composition. Exotic species have invaded more recently, changing the forest floor. As Alton Lindsey foresaw, long-term studies have revealed these changes and resilience in the forest ecosystem that promotes optimism for restoration efforts underway throughout the country. Thousands of students have benefitted from first-hand exposure to these dynamic ecosystem processes.
Below is a showcase of the ecological succession that has occurred in the Ross Reserve over the last 70 years.
The image below is an aerial photo of the reserve in 1950.The white points are the different areas of forest succession at the Reserve from 1950 to 2010. The succession points are: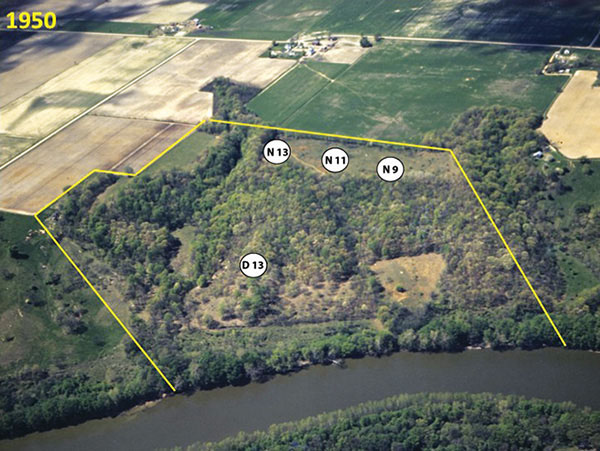 View additional aerial photos.
View slides highlighting the forest succession (PDF: 13.4 MB).